COMMUNITY COLLEGE SYSTEM OF NH, MANCHESTER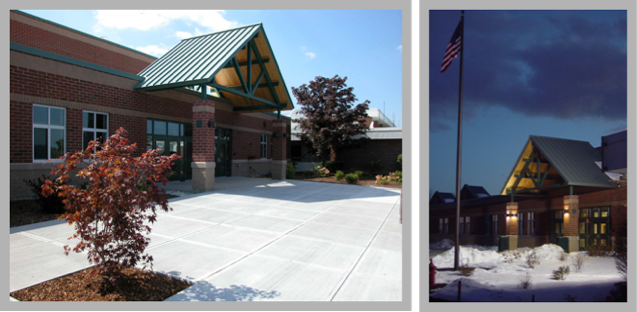 This new facility at the Manchester campus of the New Hampshire Community Technical College represents the first phase in the implementation of a master plan that will eventually remake the campus. Sitework included the removal of about 100,000 cubic yards of a sand hill to make way for the building, the creation of a 200 space parking lot, and the expansion of playing fields.
The program for the new building called for a 20,000 square foot library, four new science labs, three classrooms, two medical training suites, and fifteen new staff offices. It was also important that a prominent entry be created as a public gateway to the extended network of buildings.
We met these requirements by locating the classrooms, labs and offices in a two story area, and the library in an adjacent one-story area. This allowed us to have a high ceiling and large windows in the library area, which makes the very large space bright and inviting. We were then able to create a lobby with a welcoming gabled entry canopy at the intersection of the classroom wing, library and connector to the existing building, thus providing a new front door to the college.
GENERAL
Building size 54,350 sf on 2 floors
BUDGET
Total project budget $9,170,000
SCHEDULE
Project completed August 2007